Anupamaa: Kavya joins Gang Anupamaa's first sleepover party (Upcoming Twist)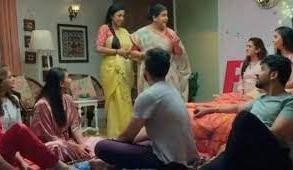 Anupamaa: Kavya switch sides join gang Anupamaa
Star Plus show Anupamaa is revolving around Anuj and Anupamaa's marriage celebration.
It seems that the entire family will come together to celebrate Anuj and Anupamaa's marriage in the most special way.
The family along with Devika will plan a sleepover in Anupamaa's room as it's a common thing during wedding.
Anupamaa will get emotional as her entire family has come together to celebrate her marriage in the most beautiful way.
Kavya will see everyone enjoying in Anupamaa's room and will hence ask Anupamaa's permission to join the fun.
Though the family will be a little reluctant but they will agree and invite Kavya for the sleepover as well.
Kavya invited to have fun
Everyone will be seen singing and dancing as Anupamaa's wedding is nearby.
Baa on the other hand is still not happy and Anupamaa is having the best moments of her life.
Stay tuned for more such updates only on Serialxpress.com.