Anupamaa: Anupamaa tagged as second hand wife gives befitting reply to Rakhi (Upcoming Twist)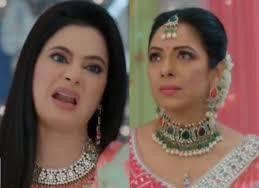 Anupamaa: Anupamaa tagged as second hand wife
Star Plus show Anupamaa is revolving around Rakhi humiliating Anupamaa in front of Anuj.
It seems that Rakhi will once again remind Anupamaa that this is her second marriage but Anuj is getting married for the first time.
She will be making fun of the fact that Anuj is far better than Anupamaa in looks and everything else as well.
Anupamaa will not get affected by her taunts but the moment she sees Anuj's angry face she feels that she needs to teach a lesson to Rakhi for spoiling Anuj's mood.
She will start talking about her first marriage that was a huge disaster and will thank god that Anuj entered her life as after being with him she realise what perfect companionship is like.
Anupamaa Anuj ideal couple
Will Rakhi be able stop harassing Anupamaa or not?
Will Anupamaa and Anuj be able to an ideal couple or not?
Stay tuned for more such updates only on Serialxpress.com.