Anupamaa: Entertainment Entertainment Rakhi throws money on Anupamaa's face (Upcoming Twist)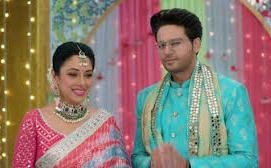 Anupamaa: Rakhi throws money on Anupamaa's face
Star Plus show Anupamaa is revolving around Rakhi trying to act smart in front of the Shah Family.
It seems that Rakhi will try to spoil Anupamaa's mood by dedication a poem on Anupamaa and Anuj's relationship.
She will humiliate Anupamaa by calling her old and Anuj young.
She will not waste time to remind Anupamaa that this is her second marriage but Anuj is getting married for the first time and hence starts sympathising with him.
Shockingly Rakhi will not stop here and will throw money on Anupamaa and reveals that she is taking out their Nazar.
Anupamaa will get angry and picks up all the money and reminds Rakhi that by doing so she is humiliating Goddess Laxmi.
Anupamaa insults Rakhi
Rakhi will feel insulted as the entire family will help collect the money thrown by her.
Will Rakhi be able to realise her mistake or not?
Stay tuned for more such updates only on Serialxpress.com.