Imlie: Shameless Anu spikes Imlie's drink hides Imlie beneath grocery sacks (Upcoming Twist)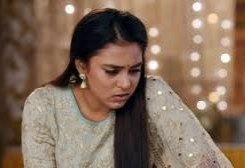 Imlie: Anu shameful act spikes Imlie's drink
Star Plus' latest offering Imlie is revolving around Imlie getting tensed as Aditya is not around her.
It was earlier seen that Anu will spike Imlie's drink and would make her high.
Imlie would faint and Anu would hide her behind the sacks and everyone would be worried for her.
Aparna tells Rupi that she has sent Imlie to find out about Aditya and maybe she is busy because of that.
Anu is very happy that finally she has been able to hurt Imlie and put her in deep trouble.
Aryan on the other hand will get tensed as he is not able to find Imlie anywhere.
Anu traps Imlie
Anu will keep quiet and enjoy the confusion around Imlie missing and Tripathi family getting tensed.
Will Aryan be able to save Imlie or not?
Will Imlie be able to know about Anu's hideous act?
Let's see what will happen next in the show.