Imlie: Aryan accuse Imlie of playing victim card final warning ahead (Latest News)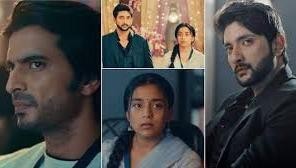 Imlie: Aryan accuse Imlie of playing victim card
Star Plus' latest offering Imlie is revolving around Imlie getting tensed as Aditya is not around her.
It was earlier seen that Aditya will leave Imlie as well as his family behind and goes to Pagdandia.
This will leave Imlie tensed as she feels that Aditya is in some danger.
Imlie will try to call up Aditya but he will not receive her call and this will further leave Imlie scared and irritated.
Aryan will see Imlie tensed about Aditya and gets angry as he feels that Imlie is still stuck to her past and is not able to move ahead in life.
Aryan angry with Imlie
Aryan will further accuse Imlie of playing the victim card and gaining sympathy of people around her.
Imlie will feel sad as she cannot help but show concerned towards Aditya as deep inside she still loves him a lot.
Will Imlie and Aditya be able to unite or not?
Let's see what will happen next in the show.