Imlie: Aryan disappointed by Imlie's New Year resolution cat fight begins (Upcoming Twist)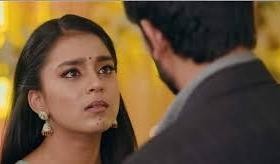 Imlie: Imlie's New Year resolution leaves Aryan disappointed
Star Plus' latest offering Imlie is revolving around Imlie breaking her ties with Aditya and moving ahead in life.
It seems that Imlie will celebrate her New Year along with her family and have a gala time.
Later the family will come together and will talk about their new year resolution.
Imlie will reveal that her resolution will be to keep her family happy and sound always.
This will leave Aryan irritated as Imlie keeps thinking about those people who don't care about her.
However Imlie will make it very clear in front of Aryan that her family is very important to her and no one can snatch them away from her.
Imlie Aryan heated argument
Aryan will try to make Imlie realise that she should be her own priority and no one else.
Will Imlie be able to understand Aryan's advice or not?
Will Imlie be able to succeed in her new life or not?
Let's see what will happen next in the show.