YRKKH: Akshara escape from Udaipur to join Pune Music Therapy Program (Upcoming Twist)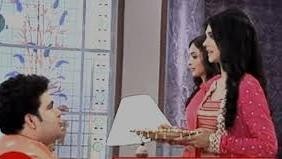 Yeh Rishta Kya Kehlata Hai: Akshara escape from Udaipur goes to Pune
Star Plus show Yeh Rishta Kya Kehlata Hai is revolving around Akshara leaving Goenka house to start fresh life once again.
It seems that Kairav wants Akshara to move ahead in life and not to linger over her past.
He will hence ask Akshara to leave Udaipur and everyone behind.
Akshara will hence plan to go to Pune and gets her admission in Pune music therapy program.
With a very heavy heart Akshara will leave her loved ones as she doesn't want to see them getting sad for her.
Goenka's give Akshara farewell
Aarohi will secretly be very happy as Akshara is not around her and now she can focus on Abhimanyu and bring him back in her life.
Will Akshara be able to bond with Abhimanyu once again or not?
Will Goenka family know about Akshara's huge sacrifice?
Keep watching this site to know what more is coming up in the show.