Anupamaa: Kavya declares Anupamaa & Dogs Not allowed in Shah House (Upcoming Twist)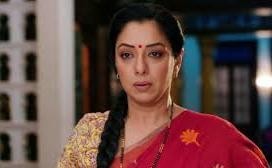 Anupamaa: Kavya compares Anupamaa wthl Dogs
Star Plus show Anupamaa is revolving around Kavya getting pissed off with Anupamaa for still ruling over Shah House and family.
Kavya will soon ask Anupamaa to leave the house as now it belongs to her.
Kavya declares that Anupamaa and Dogs are not allowed in Shah House and she will write it outside the main gate.
Anupamaa will not get offended by this and will in fact reveal that Dog are very good as they are loyal she has no problem in being compared to them.
But she would have had problem if she was compared to Kavya as she is the most disgusting person.
Anupamaa insults Kavya
Kavya will feel insulted and will demand Anupamaa to leave the house immediately.
Anupamaa will quietly leave Shah House without any drama.
Will Kavya be able to rule over Shah House or not?
Will Vanraj be able to take his property back from Kavya or not?
Stay tuned for more such updates only on Serialxpress.com.