Anupamaa: Leela folds hands in front of Anupamaa Babuji kicks Kavya out (Upcoming Twist)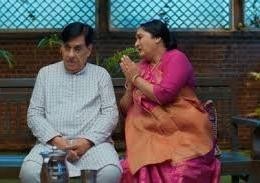 Anupamaa: Leela kicks Kavya out of family
Star Plus show Anupamaa is revolving around Leela falling ill as Babuji is not talking to her.
Leela will soon call upon her whole family as she wants to talk to them.
She will ask Kavya to leave as she wants to talk to her family something personal.
Kavya will get irked as she feels that she is the bahu of the house but still Baa is calling Anupamaa a part of her family instead of her.
Baa will be seen folding her hand and apologising to Anupamaa for the bad she had done to her for the past 26 years.
Baa apologises to Anupamaa
Baa will soon realise the love and sacrifice Anupamaa had made for the family but still never got any appreciation for it.
Kavya on the other hand is angry with the fact that still till date Anupamaa is part of the Shah family.
Stay tuned for more such updates only on Serialxpress.com.