Anupamaa: Babuji declares Anupamaa Anuj made for each other couple (Upcoming Twist)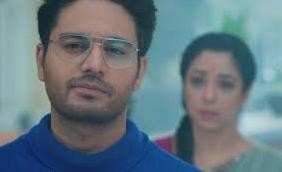 Anupamaa: Babuji calls Anupamaa Anuj made for each other
Star Plus show Anupamaa is revolving around Babuji realising the vacuum in Anupamaa's life.
It seems that Babuji will stop Anupamaa and Anuj from leaving and will talk to Anupamaa about her life and future.
He will reveal in front of Anupamaa that a man like Anuj is very difficult to find in these time and if you get one you should not let him go at any cost.
Babuji will further tag Anupamaa and Anuj's Jodi as Krishna Radha as like them they are also made for each other.
He will be seen calling Anupamaa and Anuj made for each other couple as nothing can come between them.
Babuji makes request to Anupamaa
Babuji will request Anupamaa to give Anuj a chance in her life.
Will Anupamaa be able to walk in this new path or not?
Will Anupamaa and Anuj be able to unite or not?
Stay tuned for more such updates only on Serialxpress.com.