Anupamaa: Spoiler Alert! Anupamaa falls in love with Anuj change in storyline (Upcoming Twist)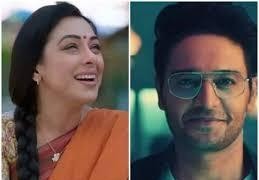 Anupamaa: Anupamaa finally falls in love with Anuj
Star Plus show Anupamaa is revolving around Babuji making Anupamaa realise that Anuj is the perfect guy for her.
It seems that Babuji will soon give a reality check to Anupamaa and makes her realise that she needs to start thinking about herself before it becomes very late.
Babuji will make Anupamaa realise the amount of patience Anuj is having towards her and supporting Anupamaa in everything she does.
Anupamaa will suddenly start feeling differently towards Anuj as she cannot comprehend this feeling.
Anupamaa will soon realise that she has also fallen in love with Anuj as she keeps thinking about him and misses him when he is not around.
Anupamaa unable to comprehend feeling
This is going to turn out the biggest turning point of the show.
Will Anupamaa and Anuj be able to live happily together or not?
Will Anupamaa and Anuj be able to name their relation or not?
Stay tuned for more such updates only on Serialxpress.com.