YRKKH: Akshu Abhi cute dream sequence gives Couple Goal (Upcoming Twist)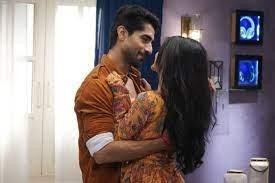 Yeh Rishta Kya Kehlata Hai: Akshara Abhimanyu cute dream sequence ahead
Star Plus show Yeh Rishta Kya Kehlata Hai is revolving around Abhimanyu being confident that Akshara loves him a lot.
Abhimanyu will be seen declaring his love for Akshara in front of his family.
Later Abhimanyu will be lost in his dream world where he will be seen romancing with Akshara in his bedroom and house.
Akshara will be part of his life and he will be seen enjoying each and every moment of his life.
Both will be seen getting up and sleeping together and even playing cute innocent prank on each other as well.
Abhimanyu happy with Akshara around
Abhimanyu is happy with the thought that Akshara will soon be part of his lonely life and will fill colours in his room as well as life.
Will Abhimanyu be able to fulfil his dream or not?
Will Abhimanyu and Aarohi be able to unite or not?
Keep watching this site to know what more is coming up in the show.