YRKKH: Akshu rejects Abhimanyu's proposal disturbing details ahead (Upcoming Twist)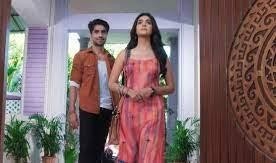 Yeh Rishta Kya Kehlata Hai: Akshara breaks Abhimanyu's heart
Star Plus show Yeh Rishta Kya Kehlata Hai is revolving around Abhimanyu being confident that Akshara loves him a lot.
Abhimanyu will be seen declaring his love for Akshara in front of his family.
Harshwardhan will ask Abhimanyu to bring Akshara in front of him and ask her to state her feeling towards him as well.
However Akshara will openly declare in front of Birla family that she doesn't love Abhimanyu and has never felt anything for him.
This act of Akshara will break Abhimanyu's heart as he cannot imagine life with her.
Akshara breaks Abhimanyu's heart
Akshara on the other hand is making this huge sacrifice as she has realised that Aarohi loves Abhimanyu and is not willing to live without him.
Will Abhimanyu be able to tolerate Akshara's rejection or not?
Will Abhimanyu and Aarohi be able to unite or not?
Keep watching this site to know what more is coming up in the show.