Anupamaa: Anupamaa convince Shah family to stay back Vanraj broken (Upcoming Twist)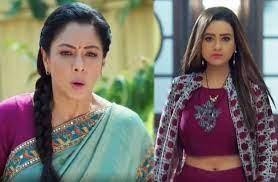 Anupamaa: Anupamaa convince Shah family to stay with Vanraj
Star Plus show Anupamaa is revolving around Kavya backstabbing the entire family and taking away the property papers.
It seems that the entire Shah Family will decide not to stay back as they don't want to share the house with Kavya anymore.
Vanraj will be broken from within as due to him his family has no place to go.
However Anupamaa will understand Vanraj's dilemma and will soon take a stand for Vanraj.
She will convince the family to stay back in Shah House and support their father and son in these times.
Anupamaa supports Vanraj
Anupamaa will reveal that Vanraj loves his family more than anything and can do anything for them.
She will hence ask her family to stay back in Shah House and support Vanraj.
Even Babuji will get convince and will stay with Vanraj as he doesn't want to leave Vanraj during these tough times.
Stay tuned for more such updates only on Serialxpress.com.