Anupamaa: Anupamaa labels Kavya as thief for cheating Vanraj (Upcoming Twist)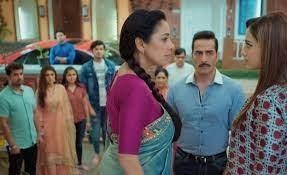 Anupamaa: Anupamaa calls Kavya thief for backstabbing Vanraj
Star Plus show Anupamaa is revolving around Kavya taking over Shah House behind the back of the family.
It seems that Anupamaa will get the biggest shock of her life as she will come to know that Kavya has backstabbed Vanraj as well as her entire family and has taken over the ownership of Shah House.
Anupamaa will further tag Kavya as a cheap thief for stealing house from her own husband and family.
Kavya will try to defend herself but Anupamaa is too angry to retaliate.
Anupamaa burst out at Kavya
Anupamaa will tag Kavya as a greedy woman who is behind money and not love.
Vanraj will be silently standing as he is still not able to absorb the fact that Kavya cheated on him and took away his entire property from his hands.
Will Anupamaa be able to teach a lesson to Kavya or not?
Stay tuned for more such updates only on Serialxpress.com.