Anupamaa: Anupamaa masterstroke takes legal action against Kavya's fraud (Upcoming Twist)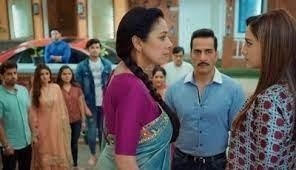 Anupamaa: Anupamaa takes legal action against Kavya
Star Plus show Anupamaa is revolving around Kavya taking over Shah House behind the back of the family.
It seems that Kavya will finally reveal in front of Vanraj and Anupamaa that she has taken over the Shah House as now she is legally the owner of the house.
She will soon reveal that how she used her brain and smartly did the entire property in her name without anyone knowing about it.
Anupamaa will not accept this cheat and will raise her voice against Kavya.
Kavya scared of Anupamaa
She will threaten that she will file a legal case against Kavya for cheating the Shah Family and doing the house in her name.
Kavya will get scared that Anupamaa will throw her behind the bar for the fraud that she has done against her family.
Will Anupamaa be able to save Shah House or not?
Stay tuned for more such updates only on Serialxpress.com.