YRKKH: Luv Kush turn new troublemaker in Sirat's life shocking details ahead (Upcoming Twist)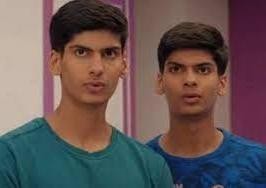 Yeh Rishta Kya Kehlata Hai: Luv Kush turns troublemaker
Star Plus show Yeh Rishta Kya Kehlata Hai is revolving around Sirat creating trouble for Goenka house.
It seems that few reporters will come to Goenka house to talk to Sirat and take her interview.
They will see Luv and Kush's pictures on the wall of the house and will recognise them.
They will reveal in front of the world that Luv and Kush were the guys who were responsible for molesting a girl and had hence be thrown behind the bar as well.
This news will get viral and hence leave Sirat in a questionable position in front of Surekha.
Sirat in questionable position
Luv and Kush will be targeted by their friends in hostel as their old news has got viral.
Will Surekha be able to forgive Sirat or not?
Will Sirat be able to save the reputation of her family or not?
Keep watching this site to know what more is coming up in the show.