YRKKH: Sirat biggest achievement celebrated by Goenka family (Upcoming Twist)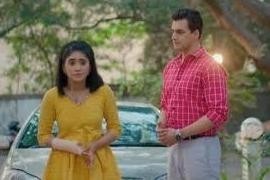 Yeh Rishta Kya Kehlata Hai: Goenka family celebrate Sirat's success
Star Plus show Yeh Rishta Kya Kehlata Hai is revolving around Sirat's success.
It seems that Kartik will come to know through Sirat's coach that she has won the qualifying match.
This will call for a celebration in Goenka house as Kartik's dream to see Sirat as a world champion will be soon fulfilled.
Sirat will be surprised that she has won the qualifying match as she had lost all hope and mentally prepared herself.
Kartik and Sirat's will hence decide to start Sirat's training as fast as possible as she needs to win the championship and make the nation proud.
Sirat Kartik on cloud nine
Shockingly Manish and Dadi will also support Sirat in her quest to become the Asian Champion.
Will Sirat be able to fulfil Kartik's dream or not?
Will Kartik and Sirat be able to stay united forever?
Keep watching this site to know what more is coming up in the show.