YRKKH: Surekha tags Sirat as gold digger Manish turns defensive (Upcoming Twist)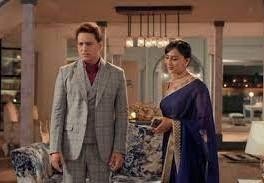 Yeh Rishta Kya Kehlata Hai: Surekha calls Sirat a gold digger
Star Plus show Yeh Rishta Kya Kehlata Hai is revolving around Surekha's anger and frustration towards Sirat and Kartik's alliance.
It was earlier seen that from the very moment Sirat entered Goenka house Surekha had problem with her and never liked her existence.
Later when Sirat and Kartik fight against all odds and got married against the will of the family, Surekha was the one who created a scene and kept comparing Sirat with Naira.
Surekha will once again cross her limits and starts calling Sirat as a gold digger.
Manish defends Sirat against Surekha
However this time not Kartik but Manish will be seen defending Sirat and will warn Surekha to mind her language.
The entire house will be shocked to see the change in Manish's attitude towards Sirat.
Will Sirat be able to get accepted by Manish?
Keep watching this site to know what more is coming up in the show.