YRKKH: Sirat minor mistake leaves Surekha fuming in anger (Upcoming Twist)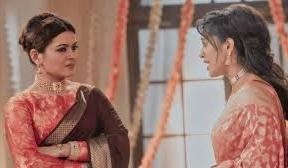 Yeh Rishta Kya Kehlata Hai: Sirat minor mistake leaves Surekha fuming
Star Plus show Yeh Rishta Kya Kehlata Hai is revolving around Surekha's anger and frustration towards Sirat.
It seems that Sirat will mistakenly send the gift send by Mansi to orphanage and this will leave Surekha fuming in anger.
She will not leave any chance to humiliate Sirat and will hold her responsible for purposefully ruining her surprise gift for the kids.
Though Sirat will try to explain that this was a genuine mistake but Surekha will vent out all her anger and frustration towards Sirat.
Sirat misunderstood by Surekha
Surekha will once again point fingers on Sirat and her motherhood as she feels that Sirat is a gold digger and has come to Goenka house with a hidden motive.
Sirat will be hurt by Surekha's poisonous words and leaves from there crying in pain.
Will Sirat be able to win Surekha's heart or not?
Keep watching this site to know what more is coming up in the show.
Latest Yeh Rishta Kya Kehlata Hai Updates