Anupamaa: Anupamaa calls Vanraj by pet name revisit golden days (Upcoming Twist)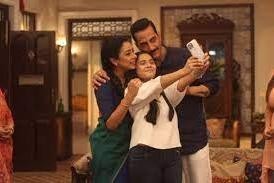 Anupamaa: Anupamaa revisit old days
Star Plus show Anupamaa is revolving around Anupamaa and Vanraj's constant fight.
It seems that Pakhi will soon give a reality check to Anupamaa and Vanraj and makes then realise that they have turned their house into a fighting ring where someone is always attacking someone.
Pakhi is fed up of Vanraj and Anupamaa's daily fights and wants a closure.
Later Vanraj and Anupamaa will have a deep conversation about their breaking alliance and reveals that they have to change their attitude towards each other or their family will fall apart.
Vanraj realise mistake
Anupamaa will take the first step by calling Vanraj as Sweety Ke Papa as that's what she is use to call Vanraj before their divorce.
Vanraj will get emotional thinking about their old days and the peace and harmony in their life.
Will Vanraj and Anupamaa turn friends once again or not?
Stay tuned for more such updates only on Serialxpress.com.