Anupamaa: Kavya Anuj jealous of Vanraj Anupamaa growing closeness (Upcoming Twist)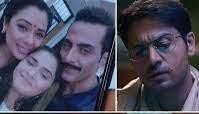 Anupamaa: Kavya Anuj get jealous of Vanraj Anupamaa
Star Plus show Anupamaa is revolving around Pakhi and her outburst.
It seems that Pakhi will have an emotional outburst as will not be able to handle the constant fight between her parents.
Vanraj and Anupamaa will soon decide to leave behind their grievances and try to stay happy for the sake of their children.
Pakhi will soon click her picture along with Vanraj and Anupamaa and post it on social media.
Anuj and Kavya will see the picture and get jealous as even though the two have parted ways forever but they come together.
Vanraj Anupamaa change of heart
Kavya will feel bad that even though she is Vanraj's wife but she has never got the respect that Anupamaa has.
On the other hand Anuj will also feel uncomfortable with Vanraj and Anupamaa's friendship.
Will Anupamaa and Vanraj be able to stay together happily or not?
Stay tuned for more such updates only on Serialxpress.com.