Anupamaa: Kavya laughs at Vanraj's cheap mentality hurts ego (Upcoming Twist)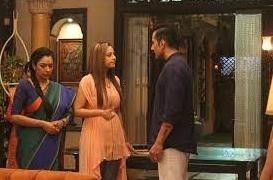 Anupamaa: Kavya laughs at Vanraj's mentality
Star Plus show Anupamaa is revolving around the ugly fight between Vanraj and Kavya.
It seems that Kavya will soon inform Vanraj that she has taken the job offered by Anuj as she is not able to find a decent job anywhere else.
This will irk Vanraj and he will reveal that Anuj is doing all this as he wants to humiliate him.
Kavya will laugh at Vanraj's mentality and reveals that Anuj Kapadia is a very big business tycoon and has no time to think about people like Vanraj.
This will further hurt Vanraj's ego as he will not know how to react to Kavya's bold statement.
Vanraj hurt by Kavya's statement
Vanraj will hurt himself in anger and leaves everyone tensed.
Will Vanraj be able to overcome his insecurity towards Anuj or not?
Will Vanraj and Kavya be able to reconcile their alliance or not?
Stay tuned for more such updates only on Serialxpress.com.