Imlie: Imlie special spa girl act for Aditya Malini agitated (Upcoming Twist)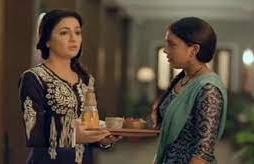 Imlie: Imlie special spa massage for Aditya
Star Plus' latest offering Imlie is revolving around Imlie attempt to make up with Aditya.
It was earlier seen that Aditya and Imlie have their romantic date where after Malini plans to not let them come closer.
However, she fails and the duos comfortably enjoy their time.
Rupali adds a twist when she advises Imlie to spend some personal time with Aditya as his wife.
And this is when Rupali gives her spa treatment products and compels Imlie to become parlour girl for Adi.
Imlie gets nervous but excitingly goes to Aditya with all the products.
Rupali love advice to Imlie
Will Imlie be able to resolve the difference between her and Aditya and lead a happy and content life?
Will Malini be able to change her attitude towards Imlie and accept the fact that Aditya love Imlie and not her.
Let's see what will happen next in the show.