Imlie: Malini carelessness towards Baby irks Aditya (Upcoming Twist)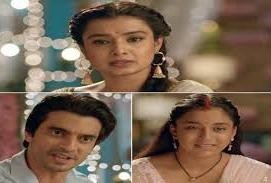 Imlie: Malini turns careless towards baby
Star Plus' latest offering Imlie is revolving around Malini's pregnancy.
It seems that in episodes to come Imlie will notice that Malini is very careless towards her unborn as she is giving more important to the fact that Aditya and Imlie are getting close and to break their alliance she is ready to harm the unborn.
Imlie will soon call doctor for Malini's check and he will remind Malini that he earlier in the day warned her not go next to any smoke or do any kind of Havan as it will affect her lungs and eventually not be good for the child.
Imlie scared about the unborn
However Malini is not ready to accept her fault and is only thinking about getting close to Aditya.
Imlie will understand what is playing in Malini's mind but will be scared about the health of the unborn.
Will Imlie and Aditya be able to keep the child safe or not?
Let's see what will happen next in the show.