Imlie: OMG! Imlie magic trick to ruin Anu's confidence (Upcoming Twist)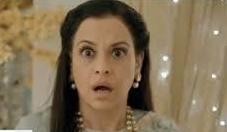 Imlie: Imlie magic trick to leave Anu shocked
Star Plus' latest offering Imlie is revolving around Imlie's plan to teach a lesson to Anu.
It seems that Anu will humiliate Meethi in front of everyone and this will irk Imlie.
Imlie will plan to teach a lesson to Anu so that she realises the pain that people around her go through.
Imlie decides to teach Anu a lesson and will try a magic trick with Anu.
Imlie along with Nishant will make Anu believe that she has become invisible. They will pull out a trick where they will show her the mirror and she will be in deep shock when she won't be able to see her reflection.
Imlie leaves Anuj shattered
Anu will get shocked and disrupt the ongoing pooja that has been organised for Malini and Aditya's baby.
Will Imlie be able to seek revenge from Anu for manipulating people around her or not?
Let's see what will happen next in the show.