Imlie: Imlie plays practical joke Anu freaks out (Upcoming Twist)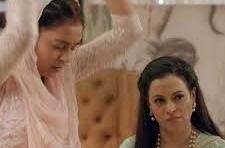 Imlie: Imlie scared Anu to death
Star Plus' latest offering Imlie is revolving around Imlie's plan to teach a lesson to Anu.
It seems that Anu will humiliate Meethi in front of everyone and this will irk Imlie.
Imlie will plan to teach a lesson to Anu so that she realises the pain that people around her go through.
Imlie will play a prank in front of Anu and makes her believe that no one can see her as she is death.
They will click pics of her but she will not be in it.
Later Anu will go and stand in front of a mirror but will not be able to see herself and hence gets disturbed.
Anu falls in Imlie's trap
Imlie will enjoy troubling Anu as she has been targeting Tripathi family for a long time now.
Will Imlie be able to change Anu's mind set or not?
Will Anu be able to change her behaviour with Meethi or not?
Let's see what will happen next in the show.