YRKKH: Sirat gets Mukesh suspended for trying to destroy her boxing career (Upcoming Twist)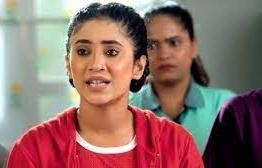 Yeh Rishta Kya Kehlata Hai: Sirat gets Mukesh suspended
Star Plus show Yeh Rishta Kya Kehlata Hai is revolving around Kartik and Sirat's fight against Mukesh.
It seems that Mukesh will push Kartik very hard while fighting and he will get hurt very badly.
Sirat will lose her cool and will go to higher authorities to complain on Mukesh.
She will reveal in front of the association how Mukesh was taking advantage of his position and threatening her to do his menial work.
Later she will get few more girls and will request them to complain against him as he needs to be thrown away.
Mukesh turns revengeful
The federation will understand Sirat and will take a decision to suspend Mukesh as a coach for their boxing team.
Will Sirat be able to stop Mukesh from worrying her any further?
Will Mukesh be able to stop his hideous act against Sirat?
Keep watching this site to know what more is coming up in the show.