YRKKH: Goenka family celebration suffers setback post Akshara accident (Upcoming Twist)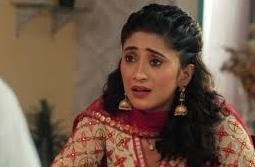 Yeh Rishta Kya Kehlata Hai: Akshara accident leaves Goenka troubled
Star Plus show Yeh Rishta Kya Kehlata Hai is revolving around celebration time in Goenka house.
It seems that the Goenkas are super excited as they come to know that Sirat is pregnant.
They will be dancing and singing to welcome Kartik and Sirat's child in Goenka house.
Shockingly while the celebration are going on Kartik and Sirat will see Akshara falling from her crib.
This will leave them shocked as due to their negligence Akshara has got hurt.
Surekha will once again take this opportunity and blames Sirat for neglecting Akshara.
Akshara hurt due to Sirat
Kartik will feel bad for Sirat as he knows that she gives her 200 percent to make sure that Akshara and Kairav and happy and safe.
Will Sirat be able to change the mentality of the family or not?
Will Sirat be able to make her place in everyone's heart or not?
Keep watching this site to know what more is coming up in the show.