MHRW: Sunny steals diamonds from Deshmukh Emporium bad times begins (Upcoming Twist)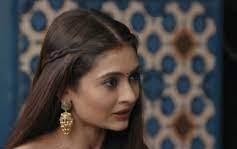 Mehndi Hai Rachne Waali: Sunny steals Diamonds
Star Plus show Mehndi Hai Rachne Waali is revolving around Sunny's hideous act against Raghav and Pallavi.
It seems that Sunny will get clues that Raghav's diamonds are kept in Pallavi's Saree shop and hence he will plan to steal it from there.
He will take Kirti to Deshmukh Saree Emporium to buy few sarees as that he gets enough time to steal the diamond.
Shockingly Sunny's planning and plotting will succeed and he will be easily steal the diamonds from the saree shop and replace it with the fake ones.
He will use this opportunity to inform Pallavi about Raghav and his smuggling charges.
Raghav in deep trouble
Sunny will create such a scene that Pallavi is forced to doubt on Raghav.
Soon bad times will begin for Raghav and Pallavi with Sunny planning and plotting behind them.
Will Pallavi be able to chose the correct path or not?
Stay tuned for more updates only on Serialxpress.com.