Nima Denzongpa: Nima fights like tigress Tulika scared of Nima's Durga avatar (Upcoming Twist)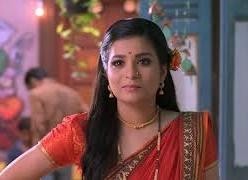 Nima Denzongpa: Tulika gets scared of Nima's anger
Colors daily popular show Nima Denzongpa is revolving around Nima's struggle to maintain peace and harmony in her life.
It seems that Tulika will cross all her limits once again and will point fingers on Nima's character.
Nima will not be able to tolerate Tulika and her nonsense any longer and reveals in front of the entire neighbourhood that Tulika is the other lady in Suresh's life as Nima was Suresh's first wife.
Tulika will face Nima's anger for the first time and gets scared.
Nima will further warn Tulika to mind her language and action as she will call the police and register a case against her.
Tulika creates drama in Nima's life
Tulika has never seen Nima losing her temper and will hence for the first time gets scared of her.
Will Nima be able to fight for her rights or not?
Will Tulika be able to leave Nima alone peacefully or not?
Stay tuned for more such updates only on Serialxpress.com.