MHRW: Pallavi goes against Raghav to seek justice for Abhishek (Upcoming Twist)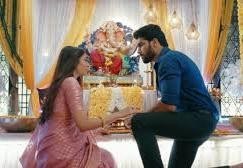 Mehndi Hai Rachne Waali: Pallavi goes against Raghav to seek justice
Star Plus show Mehndi Hai Rachne Waali is revolving around Abhishek's death.
It seems that Abhishek will die while delivering diamonds to Raghav.
Pallavi will soon come to know that Raghav is indirectly involved in Abhishek's murder as the police killed Abhishek as he was running away with Raghav's smuggled diamonds.
Pallavi will feel cheated as she never thought that Raghav is involved in these criminal activities and will have blood of an innocent boy in his hands.
Pallavi will hence ask Raghav to accept his crime and surrender in front of police as she cannot be with a criminal.
Ragav unable to accept Pallavi's demand
Raghav on the other hand reveals that he has sacrificed a lot for this success and will not let it go at any cost.
Will Pallavi be able to convince Raghav to change his decision or not?
Will Raghav and Pallavi be able to bond once again or not?
Stay tuned for more updates only on Serialxpress.com.