MHRW: Abhishek gets shot in front of Pallavi battle between life & death ahead (Upcoming Twist)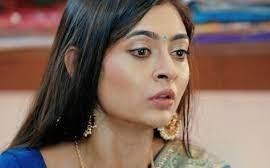 Mehndi Hai Rachne Waali: Abhishek dies in front of Pallavi
Star Plus show Mehndi Hai Rachne Waali is revolving around Abhishek's death.
It seems that Abhishek will be smuggling Raghav Rao's diamond but the police will come to know about him and chase him around.
Shockingly Abhishek will try to run from the police and will get shot by them.
Pallavi will see the entire incident and gets the biggest shock of her life.
Pallavi will see Abhshek dying in front of her own eye and will not be able to believe it.
She will get unconscious as she could not accept the huge loss.
Pallavi in huge trauma
Raghav on the other hand will get protective about Pallavi as he doesn't want her to suffer any kind of trauma.
Will Raghav be able to solve this issue or not?
Will Pallavi be able to know the person behind Abhishek's death or not?
Stay tuned for more updates only on Serialxpress.com.