YRKKH: Kairav runs away from house due to huge misunderstanding (Upcoming Twist)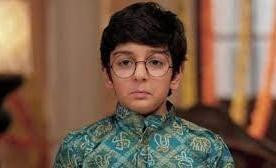 Yeh Rishta Kya Kehlata Hai: Kairav runs away from house
Star Plus show Yeh Rishta Kya Kehlata Hai is revolving around Sirat's entry in Kartik and Kairav's life.
It was earlier seen that Sirat is very upset with Kairav as he bunked his classes and hid this news from the family.
Sirat will stop talking to Kairav and will ask him to stay away from her.
This will have a huge impact on Kairav's mind as he starts feeling that no one loves and cares about him.
Shockingly Kairav will decide to leave the house as he doesn't want to be the reason behind the sorrow and misunderstanding in Goenka house.
Sirat shocked with Kairav's move
This act of Kairav will leave Sirat and Kartik shocked as they could have never imagined that Kairav will take such a step.
Will Sirat and Kartik be able to bring Kairav back in Goenka house or not?
Keep watching this site to know what more is coming up in the show.
Latest Yeh Rishta Kya Kehlata Hai Updates