YRKKH: Sirat diagnosed with blood cancer Kartik breaks into peaces (Upcoming Twist)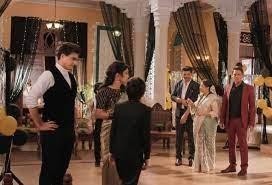 Yeh Rishta Kya Kehlata Hai: Sirat diagnosed with blood cancer
Star Plus show Yeh Rishta Kya Kehlata Hai is revolving around Sirat not keeping well.
It seems that Sirat will be practising her boxing when suddenly she will fall unconscious.
Kartik and the rest of the family will get tensed and will rush her to hospital.
The doctors will run many tests and will reveal in front of the entire family that Sirat has been diagnosed with blood cancer.
This will come as a huge shock for Sirat as well as the entire family as no one expected this to happen.
Kartik unable to accept the truth
Kartik will be the most affected as once again he has come in such a place where he can lose his love forever.
Will Kartik be able to save Sirat before it's too late?
Will Sirat and Kartik be able to fight this disease together or not?
Keep watching this site to know what more is coming up in the show.