Imlie: Aditya defends Malini not Imlie major clash between Imlie Aditya (Upcoming Twist)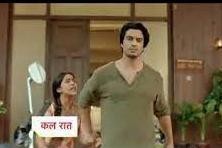 Imlie: Aditya supports Malini instead of Imlie
Star Plus' latest offering Imlie is revolving around Imlie filing an FIR against Malini.
It was earlier seen that Imlie will file an FIR against Malini for molesting Aditya in an intoxicated state.
This will leave the entire family shocked as no one is ready to believe Imlie and her claim against Malini.
Aditya will also be pissed with Imlie for blaming Malini without any evidence.
However Imlie will hold her grounds tight that she knows that Malini has crossed her limits and molested Aditya by intoxicating him.
Aditya will want to take the FIR back and due to this there will be a huge chaos in Tripathi house as no one is willing to support Imlie.
Malini tensed with Imlie's claim
Malini on the other hand is tensed as she knows that she is at fault.
Will Malini be able to prove Imlie wrong in front of the entire family?
Will Aditya be able to take the right decision or not?
Let's see what will happen next in the show.