Imlie: Malini arrested for molesting Aditya Tripathi family blame Imlie (Upcoming Twist)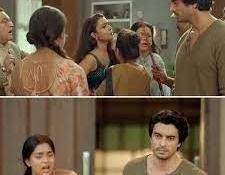 Imlie: Imlie files police case against Malini
Star Plus' latest offering Imlie is revolving around Imlie's attempt to save her marriage.
It seems that Imlie will get clues that Malini spikes Aditya's food and hence he lost his senses and Malini took advantage of the situation and molested him.
Imlie will lodge a FIR against Malini and calls the police to arrest her.
Though Anu will try to defend Malini but Imlie will counter attack her and proves easily that Aditya had been molested by Malini.
Though the police will take Malini with them but Aditya will not be convinced.
Aditya supports Malini instead of Imlie
Even the rest of the Tripathi family will get angry with Imlie for blaming Malini and not thinking twice before getting her arrested as she is still the daughter in law of the family.
Aditya will also support his family and will ask Imlie to take back the case.
Will Imlie be able to teach Malini lesson or not?
Let's see what will happen next in the show.