Anupamaa: Anupamaa leaves Shah House to live in own terms & conditions (Upcoming Twist)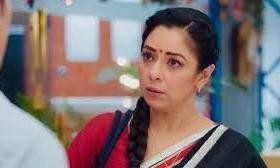 Anupamaa: Anupamaa leaves Shah House
Star Plus show Anupamaa is revolving around the biggest opportunity in Anupamaa's life.
It seems that Anupamaa will get the biggest opportunity of her life as Anuj will ask her to be his partner in a restaurant.
However Baa and Vanraj will not want Anupamaa to move ahead in life as Vanraj is still struggling with his career.
Shocking Anupamaa will soon decide it's time to leave Shah House as the people in the house are not allowing her to live life in her own terms and condition.
Vanraj ego takes over
Apparently Babuji will be supporting Anupamaa's decision as he feels that Anupamaa is an adult and has the right to make her decision.
Vanraj on the other hand will not stop Anupamaa in his ego as he feels that Anupamaa is making the biggest mistake of her life.
Will Anupamaa be able to taste success once again or not?
Stay tuned for more such updates only on Serialxpress.com.