Anupamaa: Vanraj labels Anupamaa as Gold Digger Baa supports (Upcoming Twist)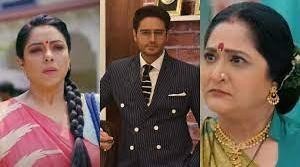 Anupamaa: Anupamaa tagged as gold digger
Star Plus show Anupamaa is revolving around Vanraj's jealousy towards Anupamaa's success.
It seems that Anuj will go ahead and accept Anupamaa's idea instead of Vanraj and Kavya and this will leave Vanraj and Kavya shattered.
Vanraj will not be able to accept Anupamaa's win and will get pissed with her.
He will tag her as a gold digger as the moment she came to know that her college friend has become a huge business tycoon she ran after him.
Anupamaa will get angry with Vanraj and his cheap allegation against her.
Anupamaa attacked by Vanraj
Shockingly Baa will also support Vanraj instead of Anupamaa
Anupamaa will make things very clear that it was Kavya who wanted to get extra friendly with Anuj so that she can crack the deal with him and just because she got the deal they are jealous and talking ill about her.
Will Anupamaa be able to take a stand for herself or not?
Stay tuned for more such updates only on Serialxpress.com.