Anupamaa: Anuj gives wings to Anupamaa's dream Vanraj pissed off (Upcoming Twist)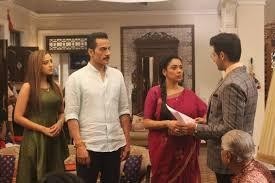 Anupamaa: Anuj gives big opportunity to Anupamaa
Star Plus show Anupamaa is revolving around Anuj giving a huge opportunity to Anupamaa.
It was earlier seen that Vanraj and Anupamaa will go to Anuj and present him with ideas about their business.
Anuj will be more convinced with Anupamaa's business idea and will give her a go ahead.
He will even give her a fifty fifty partnership with him and will ask Anupamaa to think over it before making any kind of decision.
Anupamaa will be extremely happy as she didn't imagine in her wildest dream that a business man like Anuj will want to do business with her.
Anupamaa dream come true
Vanraj and Baa on the other hand will not be happy with Anupamaa's success as they feel that Anupamaa doesn't deserve it.
Will Anupamaa be able to do business with Anuj or not?
Will Anupamaa and Anuj be able to get closer?
Stay tuned for more such updates only on Serialxpress.com.