MHRW: Raghav falls in Pallavi's trap mentally unstable reports surface (Upcoming Twist)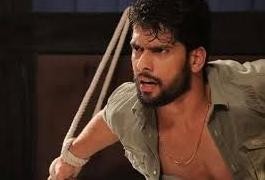 Mehndi Hai Rachne Waali: Raghav proved mentally unstable
Star Plus show Mehndi Hai Rachne Waali is revolving around Pallavi's attempt to prove Raghav's innocence in smuggling case.
It seems that police will soon get clues against Raghav that he is doing smuggling of diamonds.
This will have a huge impact on Pallavi as she has to save her husband from police as well as bring him to the right path.
Pallavi will take the help of a doctor and will make fake reports that Raghav is mentally unstable to run his business.
Pallavi will even tie Raghav to his bed to make the police believe in her story as the moment Raghav is tied to the bed he will lose his cool and starts yelling and shouting at people around him.
Pallavi saves Raghav's life
Pallavi is doing all this so that she can prove Raghav is not mentally capable of handling his business and hence the police will stop going after him.
Will Pallavi be able to save Raghav before it's too late?
Stay tuned for more updates only on Serialxpress.com.
Latest Mehndi Hai Rachne Waali Updates