Mehndi Hai Rachne Waali: Kirti desires to leave RR Mansion Sunny mind game ahead (Upcoming Twist)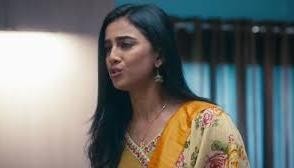 Mehndi Hai Rachne Waali: Kirti easily gets manipulated by Sunny
Star Plus show Mehndi Hai Rachne Waali is revolving around Sunny's entry in RR mansion.
It seems that Kirti is no longer able to tolerate the humiliation by Raghav and Pallavi and will hence decide to leave RR mansion and go back to Sunny's flat.
Sunny will be shocked as he doesn't want to leave such a luxurious house and go back to his two bedroom apartment.
He will hence make up a story and will easily manipulate Kirti in staying back in RR mansion.
Kirti is not aware of Sunny's real intension behind staying back in RR mansion and will hence raise no objection.
Sunny targets Raghav and Pallavi
However Sunny will start making plan to make RR Mansion his permanent house and will therefore start his mind game.
Will Sunny be able to create a rift between Pallavi and Raghav?
Will Kirti be able to know Sunny's real identity or not?
Stay tuned for more updates only on Serialxpress.com.