Imlie: Oh no! Malini raped in Tripathi house Aditya in trouble (Upcoming Twist)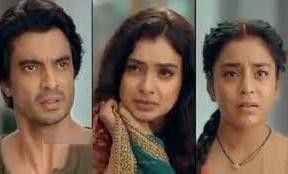 Imlie: Malini raped in Tripathi house
Star Plus' latest offering Imlie is revolving around Aditya Malini and Imlie's life.
It seems that Malini will spike the food of Tripathi family and therefore everyone will fall asleep.
Next morning Malini will be seen sleeping beside Aditya and will create a huge drama.
Shockingly both Imlie and Aditya have still not get back their senses due to the intoxication and will not be able to understand what Malini is trying to say.
Malini will soon make a shocking revelation that Aditya raped her and destroyed her life completely.
Anu will also be part of the conspiracy and creates a huge scene in Tripathi house.
Malini emotional breakdown
Malini will gain the confidence of Aparna by showing her mental breakdown and will cry for justice.
Will Imlie be able to prove Aditya's innocence or not?
Will Tripathi family be able to take the right decision or not?
Let's see what will happen next in the show.