MHRW: Sunny Kirti revolt against Raghav's forceful marriage (Upcoming Twist)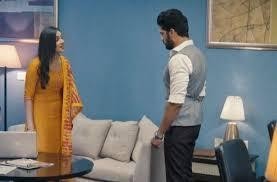 Mehndi Hai Rachne Waali: Sunny and Kirti revolt against Raghav
Star Plus show Mehndi Hai Rachne Waali is revolving around Raghav's anger and frustration towards Kirti.
It seems that Sunny will come to RR mansion for the last time to have a talk with Raghav and the rest of the family before taking any drastic step.
Raghav will not like the tone with which Sunny will talk to him and will hence throw him out of the house.
He will further lock Kirti in her room as he doesn't want Kirti to leave the house at any cost.
This act of Raghav will not go down well with Sunny and he will hence elope with Kirti before Raghav forcefully gets Kirti married to another man.
Kirti goes against Raghav's will
This will have a huge impact on Raghav as Kirti has done the unthinkable.
Will Raghav be able to forgive Kirti for disobeying him or not?
Will Kirti be able to stay happily with Sunny or not?
Stay tuned for more updates only on Serialxpress.com.