Bade Ache Lagte Hai 2: Finally Ram Priya come face to face with comical twist (Upcoming Twist)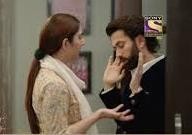 Bade Ache Lagte Hai 2: Ram and Priya come face to face
Sony Entertainment daily popular show Bade Ache Lagte Hai season 2 is revolving around Ram and his relationship with his family.
It was earlier seen that Shivi will run away from her won wedding sangeet and leaves everyone in a state of shock.
Later Ram will trace out Shivina and goes to take her back from Priya's house.
Ram and Priya will meet each other for the first time and will start fighting due to the misunderstanding created by Shivi.
Shivi will lie to Priya that Ram is forcing her to marry someone against her wishes and this will hence create a lot of fight between Ram and Priya.
Priya pulls Ram's leg
Priya will be seen making fun of Ram and calls him uncle on the other hand Ram will not be able to win his fight against Priya as she is too quick and sharp.
Will Ram and Priya be able to understand each other or not?
For more exciting updates, stay tuned to Serialxpress.com.