GHKKPM: Sai manhandles Ninad Pakhi jumps to grab attention (Upcoming Twist)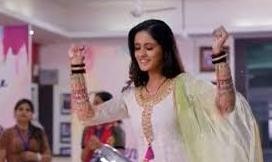 Ghum Hai Kisi Ke Pyaar Mein: Sai manhandles Ninad in front of everyone
Ghum Hai Kisi Ke Pyaar Mein is revolving around Sai and Ninad's budding relationship.
It seems that Sai will get a gift and will pull Ninad's hand and ask him to come and open the gift.
Ninad will not want to go but Sai will pull him harder against his wishes.
Pakhi will not like the way Sai will handle Ninad and therefore will stop her from doing so.
Pakhi will once again try to create a scene and will target Sai for being rude.
Ninad freeze in happiness
However Sai will not let anyone ruin her surprise and hence will force Ninad to open the gift box.
Ninad will be overwhelmed when he sees a harmonium in the box and will freeze.
Stay tuned for more such updates on Virat Sai and Pakhi's life.
Latest Ghum Hai Kisi Ke Pyaar Mein Updates