GHKKPM: Ashwini warns Pakhi to stay in limit shows exit door to Pakhi (Upcoming Twist)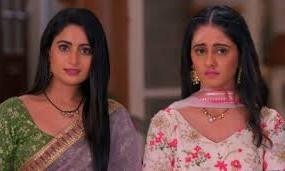 Ghum Hai Kisi Ke Pyaar Mein: Pakhi asked to stay in limits
Ghum Hai Kisi Ke Pyaar Mein is revolving around Pakhi's frustration towards Sai.
It seems that Pakhi will once again taunt Sai and will not think twice before declaring in front of everyone that Sai is taking drugs and hence behaving so weirdly.
Ashwini along with the rest of the family will get irked with Pakhi and her nonsense.
Ashwini will further ask Pakhi to stay in a limit and open her mouth or else leave the house.
However Pakhi will have a no impact with Ashwini's warning and will continue humiliating Sai in front of the family.
Virat demand Pakhi to shut up
Finally Virat will intervene and will ask Pakhi to shut up.
Will Pakhi be able to change her mindset or not?
Stay tuned for more such updates on Virat Sai and Pakhi's life.
Latest Ghum Hai Kisi Ke Pyaar Mein Updates