GHKKPM: Sai single headedly wins Ninad's heart Pakhi silent spectator (Upcoming Twist)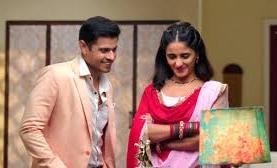 Ghum Hai Kisi Ke Pyaar Mein: Sai wins Ninad's heart
Ghum Hai Kisi Ke Pyaar Mein is revolving around Sai and Pakhi's entangled life.
It was earlier seen that Ninad will sing beautifully in Sai's birthday and leaves everyone surprised by his voice and love towards music.
Sai will not be able to take this thought out of her mind and will therefore do the unthinkable.
She will get a harmonium for Ninad as a gift so that he can start singing once again.
Ninad will get emotional as no one has ever thought of him and bought something that special.
Ninad dream come true
Pakhi on the other hand will be shocked as Sai has now won Ninad's heart forever.
Virat and Ashwini will be very proud of Sai and her gesture towards Ninad.
Stay tuned for more such updates on Virat Sai and Pakhi's life.
Latest Ghum Hai Kisi Ke Pyaar Mein Updates