GHKKPM: Pakhi labels Sai as drug addict Chavans shocked (Upcoming Twist)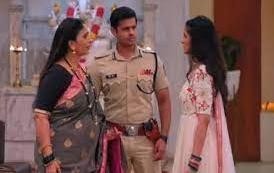 Ghum Hai Kisi Ke Pyaar Mein: Sai labelled as drug addict
Ghum Hai Kisi Ke Pyaar Mein is going to witness some high voltage drama.
It seems that the family will get concerned about Sai as she is not back home on time.
Virat will go in search of her but just then Sai will be standing outside.
Pakhi will get angry with Sai for being so careless and therefore calls her a drug addict for not informing the family about her whereabouts.
She will further ask the family to check her face and eyes and will put forward her thought that Sai might be taking drugs and therefore she wanted so much money.
Pakhi makes shocking allegation
Virat and Sai will take offense to Pakhi and her dirty allegation.
Will Sai be able to shut Pakhi's mouth or not?
Stay tuned for more such updates on Virat Sai and Pakhi's life.
Latest Ghum Hai Kisi Ke Pyaar Mein Updates