GHKKPM: Pakhi walk out of Chavan Nivas in search of job (Upcoming Twist)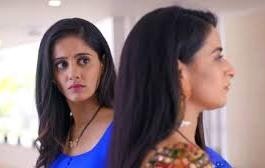 Ghum Hai Kisi Ke Pyaar Mein: Pakhi leaves Chavan Nivas to get job
Ghum Hai Kisi Ke Pyaar Mein is revolving around Sai and Pakhi's entangled life.
It seems that the fight between Pakhi and Sai will soon take an ugly turn when Pakhi will start feeling that she is being ignored by the family as she is not a working woman and not contributing towards the house expense.
Pakhi will hence decide to leave Chavan Nivas and come back only when she has secured a job for herself.
Pakhi exits Chavan Nivas
Pakhi will patch her bags and will be ready to go back to her parent's house as she cannot stay in Chavan Nivas any longer.
However Virat will not let Pakhi take such a drastic step and stops her from leaving.
Stay tuned for more such updates on Virat Sai and Pakhi's life.
Latest Ghum Hai Kisi Ke Pyaar Mein Updates